Online Excel Editor
Spreadsheets are the essential components of any business in this modern era. The actual requirement of spreadsheets may vary from one business to another, but most users rely on Excel to fulfill all of their needs. MS Excel is a powerful spreadsheet application that comes with the MS Office Suite. It has an extensive range of robust features.
Although Excel has almost all the distinct features required to manage spreadsheets, it has some limitations. For example, Excel is not free to use, and purchasing this software can be prohibitively expensive for most users. That way, it isn't good to purchase it when users do not need to use spreadsheets every day. Additionally, users must have sufficient free storage on their devices to install Microsoft Office Suite to use MS Excel.
Therefore, if we do not want to pay for an expensive Microsoft Office Suite, we can utilize the alternatives to Microsoft Excel to edit excel files. Although there are several desktop applications similar to Excel, we must install them on our device. Instead, we can try some online alternatives to Excel without the need for any installation.
This article discusses some of the most popular and commonly used online Excel alternatives, which help users view, edit or create excel files online.
List of Best Online Excel Editor
Many software/ tools allow users to edit Excel files online, even with new software coming up every day. The following list has some most popular and widely used online excel editor software introduced by the leading companies.
Google Sheets
Google Sheets is currently known as one of the best solutions to spreadsheet-related tasks and is cloud-based. A cloud-based spreadsheet application can perform most Excel functions that the average user may ever need. However, advanced Excel users may not find this tool much helpful as it lacks some of the advanced features of Excel. This is why some features of uploaded Excel files may not always work on Google Sheets.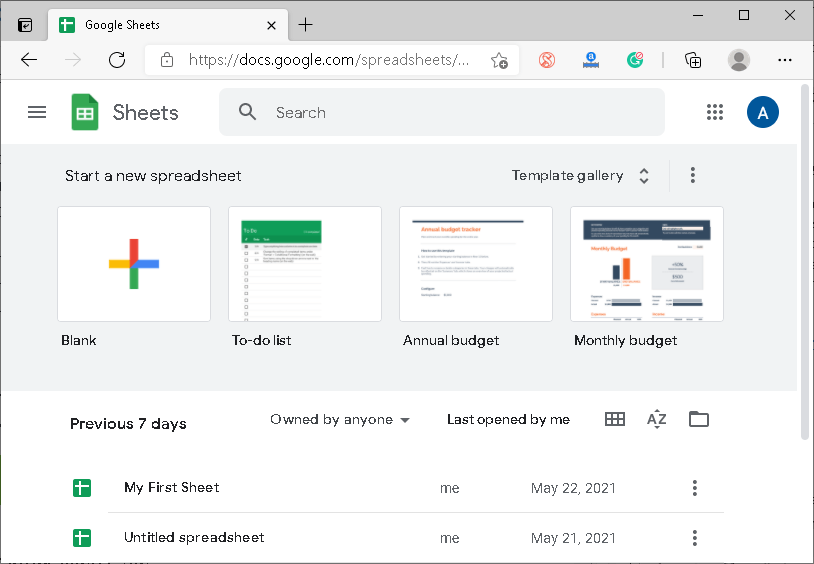 Google Sheets is platform-independent, meaning it can be used on different platforms, such as Windows, MacOS, Linux, etc. This particular tool is hosted in the cloud and can be run from within the web browsers. The spreadsheets are saved on Google Drive, and users can share a file link with others to work on the same file simultaneously. Google Sheets is freely available for personal use.
Note: To use Google Sheets, we must have a Google Account. We can either create a new one or use an existing Google account to log into Google Sheets.
Features of Google Sheets
It supports the real-time collaboration feature, which means that users can see the cursor position of others and the changes made to the sheet.
Since changes made to the sheet are automatically saved to the existing file, losing data is not a concern in Google Sheets.
It supports scripting; however, it should be based on JavaScript and not Visual Basic for applications like Excel.
In addition to saving files on the cloud, users can also download them on their devices.
Link to Google Sheets: https://docs.google.com/spreadsheets/
Microsoft Office Excel Online
Microsoft introduced its online web-based version of the Office suite with most of the basic features to compete with the Google Online Office Tools. The MS Office's online version also allows users to edit excel files and perform various operations on the data given in sheets. Though Excel's online version might be a good choice for the average user, it lacks many advanced features as those present in the Excel desktop version.
Like Google Sheets, Excel's online version also stores the spreadsheets on the cloud, i.e., Microsoft OneDrive. The features and user interface of the Excel online version are more like Google Sheets than the Excel desktop version. Since Excel online version is also a Microsoft product, most people find this alternative more familiar to work on spreadsheets online. MS Office Excel Online is free to use; however, users can purchase a premium subscription to access Excel premium templates and additional features.
Note: To use Microsoft Office Excel Online Tool, we must have a Microsoft Account. We can either create a new one or use an existing account to log into the corresponding tool. It is free to create a new Microsoft account.
Features of Microsoft Office Excel Online
It offers all the basic formulas, conditional formatting options, and pivot tables.
Because of the cloud support, changes made to the sheets are automatically saved to an existing file on OneDrive. Additionally, multiple users can work on the same file at the same time.
It enables users to download, export, or print the sheets from within the web browser.
It includes a search box that helps users to find any specific feature, function, or template with ease.
Link to Microsoft Office Excel Online: https://office.live.com/start/Excel.aspx
Zoho Sheet
Zoho Sheets is another most popular alternative to Excel after the Google Sheets and Office Excel Online. We cannot ignore the importance of this tool due to its distinct range of features. Zoho Sheet is a web-based spreadsheet application that offers robust features to help users create, edit, view, and share spreadsheets online. This particular application is gaining popularity, and thus, the Zoho Sheet also has provided learning lessons through a detailed user guides section on its official website.
Zoho Sheet offers more than 350 functions to perform the most basic and complex functions. It is one of the best options and is undoubtedly a valuable tool for average users and sometimes even advanced users. The companies mainly prefer Zoho Sheet to establish a collaborative atmosphere between the team members while working on the same spreadsheet file.
Note: To use Zoho Sheet, we may need a Zoho Account. Additionally, we can use any existing account of Google, Microsoft, Facebook, or LinkedIn. However, a Zoho account can also be created for free.
Features of Zoho Sheet
It allows users to select the specific parts of data with conditional formatting and highlight them accordingly if desired.
Like other popular tools, Zoho sheet also enables users to download the spreadsheets to their devices in different formats, including PDF and HTML.
It allows users to share any desired spreadsheet with other users, deciding if they can see the formula cell or not.
It enables users to insert VBA/ macros and perform any specific operation with a single click.
Link to Zoho Sheet: https://www.zoho.com/sheet/
ASPOSE Excel Editor
ASPOSE has developed many unique tools as cross-platform applications to effortlessly allow users to work on different file formats. That way, it has also provided an online excel editor to edit excel files online and perform various operations accordingly. However, this particular tool has only the core/ basic editing features.
Since ASPOSE Excel Editor is platform-independent, it can be accessed on different devices using web browsers. Users do not require an account, registration, or membership to use this tool. It is entirely free to use and does not even ask users to log in to any account. Users can create a new excel file or upload an existing file to work on it. However, users must download spreadsheet or Excel files after working on it; otherwise, if the browser is accidentally closed without downloading the file, they (users) may lose their data.
Features of ASPOSE Excel Editor
It has a simple user interface and is lightweight and fast.
It allows users to download Excel files in the original format, meaning whichever Excel format the user has uploaded. Additionally, users can select PDF, XLSX or HTML formats.
It is entirely free; even no ads are shown in the tool.
It can be accessed from the web browser, and therefore, can be used on different devices, including mobiles, tablets, and notebooks.
Link to ASPOSE Excel Editor: https://products.aspose.app/cells/editor
OnlyOffice Spreadsheet Editor
OnlyOffice Spreadsheet Editor is another powerful tool that allows users to edit excel files online. However, users can also get the offline version of this tool and install it into their machine as other software. Besides, the cloud version of OnlyOffice Editor helps users organize their data online with ease and even automate their calculations. It offers more than 400 functions and formulas and helps analyze data, find patterns using Pivot tables.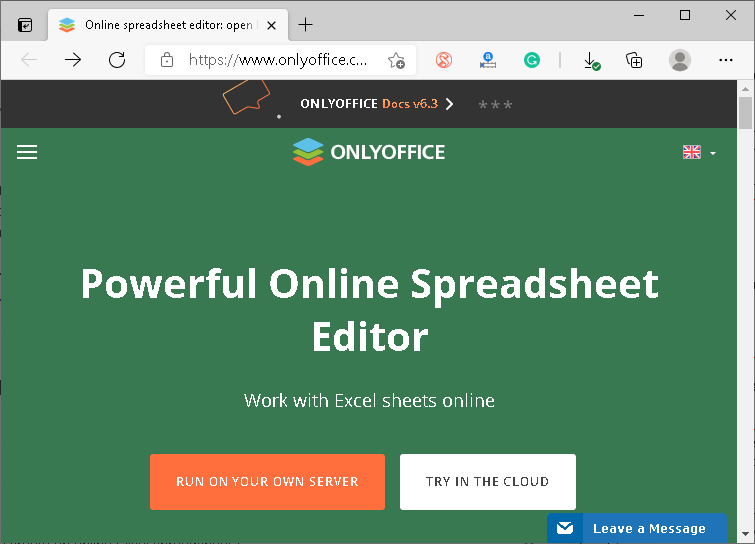 In addition to basic features, users can also insert colorful charts, informative graphics, and even YouTube videos for the data presented. Users can also add their business teammates to a separate sheet and edit the file simultaneously in real-time. The best thing about this tool is that the users can also create macros to automate tasks and use plugins to extend the editing capabilities. OnlyOffice Excel Editor is a true competitor to MS Excel and Google Sheets.
Features of OnlyOffice Spreadsheet Editor
It allows users to illustrate the Excel file data with visuals online.
It enables multiple users to edit the file in real-time, insert comments on cells, and chat with each other without exiting the editor.
It allows users to create macros using JavaScript syntax and save them from automating repetitive tasks online. Also, users can control autostart for macros to allow or restrict them to run automatically.
It offers an extensive range of plugins to ease the overall working process with additional tools.
Link to OnlyOffice Spreadsheet Editor: https://www.onlyoffice.com/en/spreadsheet-editor.aspx
OffiDocs (OffiXLS) Spreadsheet Editor
When it comes to finding a true competitor to the MS Excel desktop version, LibreOffice is one of the best alternatives with robust features. OffiDocs Spreadsheet Editor is integrated into LibreOffice, and therefore, it is also called LibreOffice Online. OffiDocs Spreadsheet Editor is a web-based tool that allows users to create and edit excel files using their cloud. Additionally, users can also edit Word documents, PPT files, and other Office files with this online tool. Like the LibreOffice desktop version, the online version is also freely available for users.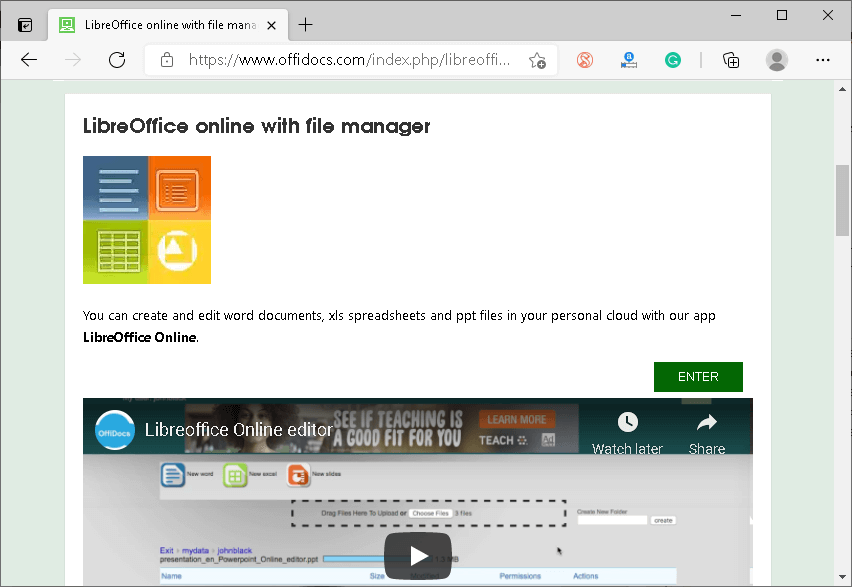 To word with OffiDocs Spreadsheet Editor, users can either create a new spreadsheet or open an existing excel file from their Google Drive account. The tool offers all the essential features required for the average user to perform multiple operations with files and folders. Despite this, we must download the excel file before we close the web browser or the corresponding browser window.
Features of OffiDocs Spreadsheet Editor
It does not require any plugin or extension to be installed on the device. Also, it does not require any account login or subscription.
Since it is integrated with LibreOffice, it supports most of the file formats present in LibreOffice.
It stores data temporarily, making the data inaccessible and secure from the other users.
It allows users to export/ download excel files into PDF, ODS, XLS, XLSX format, enabling users to save them (files) on their devices.
It allows users to share spreadsheets over mail using the OffiLive free email service.
Link to OffiDocs Spreadsheet Editor: https://www.offidocs.com/index.php/libreoffice-file-manager-online
EtherCalc
EtherCalc is another tool that allows users to edit excel files online without any sign-up or subscription. Although this online tool is not so popular, it has almost all the features required for basic editing. However, it lacks advanced Excel features. This web-based spreadsheet tool stores the data on the web, allowing multiple people to edit the same file simultaneously. The changes made by people are instantly reflected on every user's screen.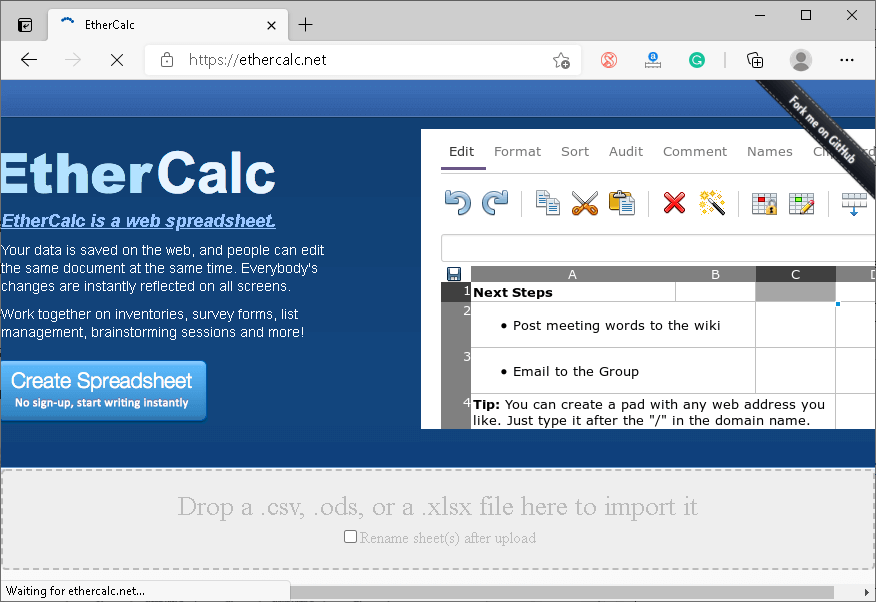 Since EtherCalc does not ask users to sign-ups, the data stored on the web is temporary. That means users must download the spreadsheet before closing the web browser. The file can be downloaded when work is complete and uploaded to the tool later to start continuing the work from the last position.
Features of EtherCalc
It creates a random URL for each file that is created or uploaded to this tool. This eventually helps increase data security.
It allows users to create forms. Additionally, users can create comments to collaborate with others involved in a corresponding file.
It has cross-platform support, meaning that it is accessible on multiple platforms such as Windows, Linux, MacOS X, Android, etc.
Users can export/download excel files in different formats, such as ODS, HTML, CSV, and Excel default format.
Link to EtherCalc: https://ethercalc.net/
XmlGrid.net Editor
XmlGrdid offers several spreadsheet-related tools, including the Excel editor. XmlGrid Excel editor tool is a web-based spreadsheet application with the least availability of features for editing. This means that users don't get many editing features. Specifically, users can only enter text data, delete unwanted rows or columns, add rows or columns, and change column names or values. Due to this, this tool is not usually used. XmlGrid is best known to be a good excel editor, mainly for CSV and TXT-based Excel files.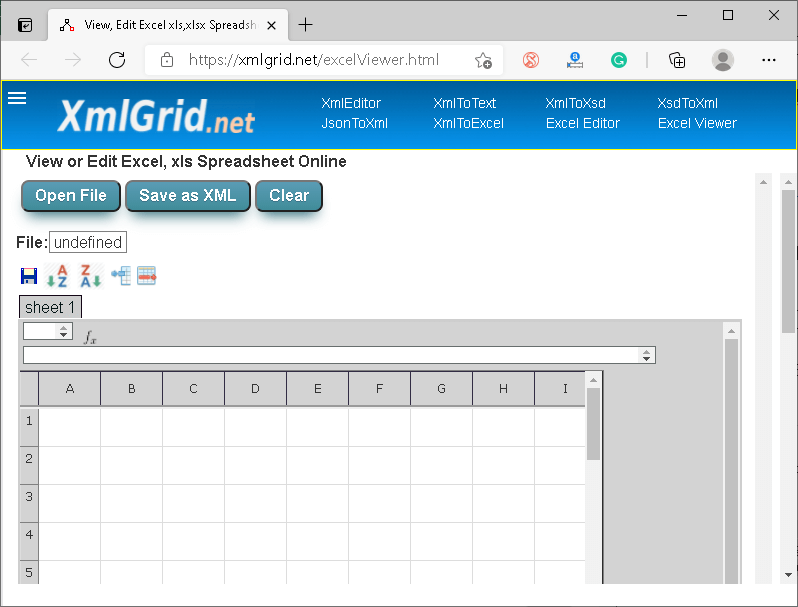 Apart from this, users can download/ save the files to their devices once they are done working with the file. Since XmlGrid accepts only text data, users can either save files as an XLS or XLSX only.
Features of XmlGrid.net Editor
Users don't need to install any software, tool, or extension to use XmlGrid.
The user interface is straightforward, without the need for an account login/sign-up or membership.
It saves data temporarily, which keeps the data relatively secure to some extent.
It allows users to create a new file or work on the existing file. However, all the features of an existing file might not work.
Link to XmlGrid.net Editor: https://xmlgrid.net/excelViewer.html
ScanWritr Online Editor
ScanWritr Online Editor is an online tool used to edit and convert Excel files. Unlike other spreadsheet tools, ScanWritr Online Editor typically allows users to open and edit an excel document as an image. It is like editing an image created from the document file. That way, it doesn't seem easy to most users. Also, this particular tool is not as powerful as other spreadsheet software/tools available online. ScanWritr is helpful for minimal editing.
In particular, ScanWritr helps users to upload their documents in the form of images and edit using the multiple options given within the tool. Users can insert annotation, create the signature, use different pens or erasers, and fill out the blank areas using writing tools. Once the editing is complete, users can convert their files into PDF and process them further for sending, sharing, printing, or even faxing.
Features of ScanWritr Online Editor
It works as an image editing tool, allowing users to edit file elements using a pen, pencil, and eraser.
It allows users to improve document quality and retouch it to enhance the quality.
It generates a high-quality digital copy (image) of the excel documents.
It allows users to open an existing excel file from the computer, Google Drive, and Dropbox.
Link to ScanWritr Online Editor: https://www.scanwritr.com/online-excel-editor/
Disclaimer: We don't take any responsibility for the data security of spreadsheets (Excel documents) while using the above-mentioned online excel editors. Since they are external/ third-party tools, we strongly suggest users go through their terms & conditions or privacy policies to know how they use the data from files uploaded to their tools/ servers.
---